Jim Casey – Founder of Game Show Trivolution
Jim has watched game shows on TV since he was five years old. He was always fascinated with the hosts, their interactions and how much fun people appeared to be having. If you happen to see Jim interact with contestants in a similar way, it's because he learned from watching the best on TV.
As of 2023, he has hosted over 2,000 shows and corporate events with GST's parodies of popular games similar to Family Feud, Wheel of Fortune, Jeopardy, Pyramid, Minute to Win It and even his exclusive Smartphone Trivia Game Show. for Sarasota Trivia events. We are NOT representatives of those TV shows. They all have their own trademarks and copyrights which we do not wish to infringe upon.



You can book Jim for a corporate event anywhere from our headquarters in Sarasota and Bradenton, to Tampa and St. Pete, Clearwater to Orlando to Ft. Myers, Cape Coral, Naples and even Miami.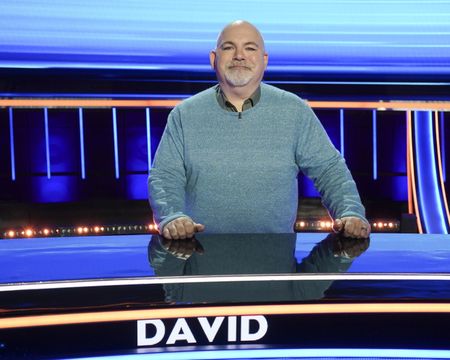 David Abolafia, Two-Time Jeopardy Champion, The Chase Game Show Contestant, Improv Comic
We met David 12 years after he won $44,000 on Jeopardy. He and his team "Fluffy Buck"  started playing the game show at our Sarasota Trivia show at Clark Road Applebee's and absolutely dominated.
One location he played at actually FIRED our show because nobody else could win.
After that, Jim asked him to be a host for his own weekly show. He's been hosting for the company ever since.
David continues to impress with his trivia knowledge as he competed on the TV Game Show "The Chase" in April 2022. It finally aired in January, 2023. He and his fellow chasers did not win, but put on a good challenge to "The Queen", Victoria Groce. Go to this link, then hit embed, you can see a few publicity photos from the show.
Kent Perry, Comedian, Emcee, and Voice Over Artist.
Kent has been around our show off and on for close to a decade as a player, and as a part-time host. As a comedian, he has been on the stage at McCurdy's in Sarasota and has met some the greats in the industry such as the late Gilbert Gottfried. 
Eddie Lleanas
Eddie is the newest member of our roster. He joined our show in 2022 as a member of the Ice Holes team at the Palmetto Moose Lodge 2117.
You will see him do spot shows as a fill-in for Jim Casey at the Moose Lodge utilizing our 21 Questions version of the game show.